Foreword by Roger Scruton


Original cover art by Daniel Mackie special to this Talonbooks edition.

Buy the book: [iTunes] [Consortium] [Talon] Amazon: [Canada] [UK] [USA]
Christopher S. Morrissey is Associate Professor of Philosophy at Catholic Pacific College, the Catholic liberal arts college at Trinity Western University in Langley, British Columbia, where he also teaches courses in the Latin language and in Greek and Roman history. He studied Greek and Latin at the University of British Columbia and has taught courses in these languages and in other classical subjects at Simon Fraser University. Morrissey's academic interests embrace philosophical theology, traditional metaphysics, perennial philosophy, and traditional cosmology (e.g., in Plato and Hesiod). He has also published on the mediaeval Latin philosophy of Thomas Aquinas and his commentatorial tradition, which includes John Poinsot ("John of St. Thomas"), from whom we may trace a foundational doctrine of signs for semiotics — i.e., the interdisciplinary study of the logic at play in the evolution of the cosmos.
Dr. C. S. Morrissey
translator of Hesiod's poetry
"Ascraeumque cano Romana per oppida carmen" (Verg., G. ii.176)
Associate Professor of Philosophy,
Catholic Pacific College
Managing Editor,
The American Journal of Semiotics


"Hesiod's appeal may widen with the publication of Morrissey's new translation. It is clear and reads well, especially aloud. Shifts in tone and vocabulary from the formal to the demotic are challenges that some translators fail to meet. Not Morrissey. ...
Morrissey has brought fire and light to Hesiod's work, and offered it to us with clarity and good humour, in the darkening air of our time."
—Vallum: Contemporary Poetry (issue 10:1): 85–87.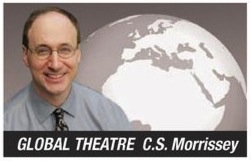 C.S. Morrissey:
Global Theatre
newspaper column
"Simply put, this translation possesses the potential
to stir the divine spirit flowing within oneself
— praise few translations merit."
—Rebecca LeMoine, review in Voegelin View
"My favorite book of the year was, without a doubt, Canadian philosopher Chris Morrissey's new translation of Hesiod's Theogony and Works and Days (Talon). Morrissey has provided a spectacular and poetic read of one of the greats of antiquity. The profundity of Hesiod's language as well as his mythopoetic vision shine forth in this new translation."
—Bradley J. Birzer, "The Best Books I Read in 2012", Catholic World Report.
"Morrissey's version … has a gnomic quality, and we do feel as if we are glimpsing the art of an ancient poet. … At the same time, the book does not discount the possibility of being used for academic purposes … this translation works effectively as a source for the myths which is uncommonly mindful of historical circumstances surrounding its composition, which we are at times in danger of forgetting. … Morrissey's diligent style and innovative framing devices provide a new and helpful context to read and re-read some of the great founding narratives of classical literature."
—Glasgow Review of Books

Interview with C.S. Morrissey in
BC BookWorld (Summer 2012)
about his translation of Hesiod